Free Shipping Over $99 - Thank You For Supporting This Small Business!! - Use Code NEW for 10% Off Your First Order!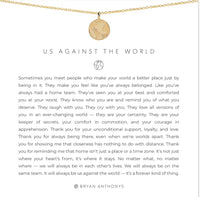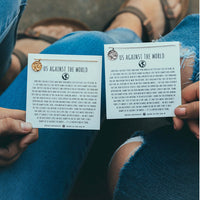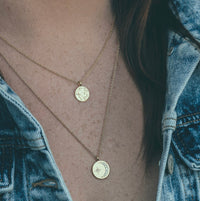 Bryan Anthonys Us Against The World Gold Necklace
Regular Price

$44.99

Sale Price

$44.99

Regular Price

Unit Price

per
Us Against The World Necklace
Sometimes you meet people who make your world a better place just by being in it. They make you feel like you've always belonged. Like you've always had a home team. They've seen you at your best and comforted you at your worst. They know who you are and remind you of what you deserve. They laugh with you. They cry with you. They love all versions of you. In an ever-changing world — they are your certainty. They are your keeper of secrets, your comfort in commotion, and your courage in apprehension. Thank you for your unconditional support, loyalty and love. Thank you for always being there, even when we're worlds apart. Thank you for showing mE that closeness has nothing to do with distance. Thank you for reminding me that home isn't just a place or a time zone. It's not just where your heart's from, it's where it stays. No matter what, no matter where — we will always be in each other's lives. We will always be on the same team. It will always be us against the world — it's a forever kind of thing.
 Product Information & Fit
Made In America & Designed by Bryan Anthonys 
Length: 18"
Materials: Metals111
Enter the content to use inside the accordion panel selected.